The deeper you venture into the world of fashion, the quirkier and sometimes stranger the clothes become: brutalist fabrics, extra-large blazer shoulder pads, asymmetric zippers, hyper elongated sleeves, etc. Avant-garde fashion is the type of clothing that doesn't make much sense until you stop and think. They pique your interest in finding out the 'whys' and 'hows'. Let me rephrase: they are not 'clothes' per se; they are most of the time viewed as art pieces.
These art pieces often bend the boundaries of fashion and blur the lines between art exhibits and clothes, redefining how apparel can look on your body or what kind of visual stories they can ultimately tell. Most of the time, the way to spot avant-garde fashion from the vast sea of clothes is, as mentioned, to look for its abnormalities and points of exaggeration as this particular form of fashion favors storytelling over garment wearability.
By definition, avant-garde simply translates to 'advance guard', meaning something is ahead of the forefront. However, most of the time, in avant-garde fashion, it is more than just being ahead of trends or 'the first'. While I drew parallels between art and fashion, avant-garde art and avant-garde fashion both emphasize drastically different things. As Bliss Foster (a fashion YouTuber) covered in his video, he quoted Susan Sontag: 'avant-garde art is the experimentation of forms at the expense of content.' On the other hand, avant-garde fashion focuses on the narratives instead of the actual practicality of clothes, so 'it is more of an experiment of content at the expense of forms'. One of the most popular avant-garde designers Rick Owens is the most straightforward example to list as his revolutionary 2016 spring RTW sent shockwaves through the radar. The provocative fusion of human chrysalis combined with revolutionary garment cuttings was captivating and graphic at the same time. It was abrupt, though most would have prepared to expect the unexpected — that show was on another level of shocking. It is also important to note that besides the actual clothes and showed products, this boldness is an element that separates an avant-garde show from the conventional shows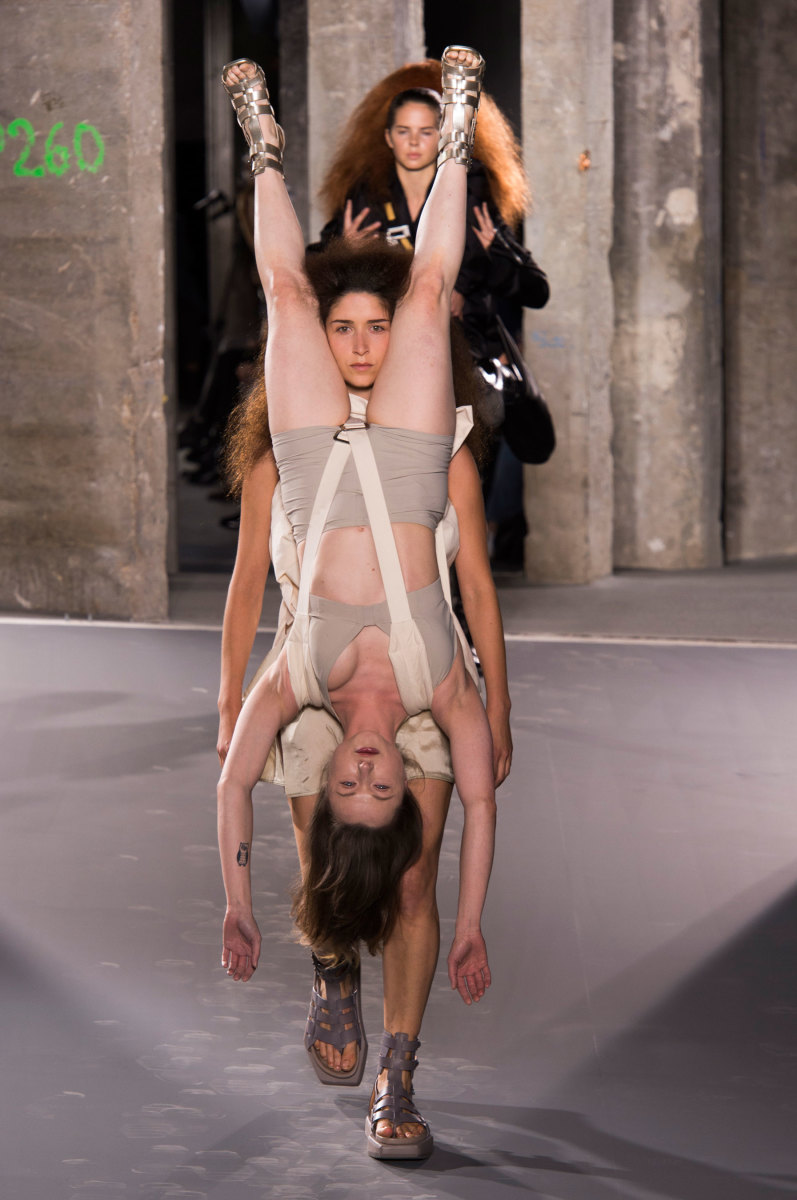 The Forget Me Knot ring by Sruli Recht is another perfect example of this artisanal fashion. It's just a ring, right? Yes, in terms of the mentioned 'wearability', it wears just like any other ring, but it's made with a slice of Mr. Recht's skin (with a good chunk of hair still attached to it). Besides human skin rings, Sruli Recht has also experimented with creating clothes and jewelry with stillborn lamb leather and skin from deceased loved ones. As gory and boundary-bending as they are, whether there is a deeper meaning behind all of these creations or he simply wanted to shock the fashion world, all these experimentations comfortably placed him among the most controversial fashion designers, even within the avant-garde community.
Many other more well-known avant-garde designers such as Iris Van Herpen, Yohji Yamamoto, Martin Margiela, etc. have shown an unconventional approach to clothing — though slightly more digestible and accessible — the general public misunderstood them for a long time. But this once again leads to the big question about fashion or any other form of art, who are you creating these for? In this case, do you want your creativity, the over-the-top, pioneering fashion sense, snuffed by your brand's sales numbers? Every designer has to answer these compromising questions, especially for those who desire to create something more intricate than most can digest. Either way, they are all insanely enchanting in their ways.
Perhaps it is anti-fashion. Maybe it is an extreme way of conveying a deeper meaning behind it. Although the intention is ever-changing and unclear at times, we can all agree that avant-garde isn't one rigid formula that designers follow. This concept has changed shape throughout the years: what was avant-garde may not be today. People's taste in fashion has broadened exponentially over the past decade, and we must understand what makes these clothes so outstanding era-wise. Rather than blindly comparing new-school fashion to old references of what once were the biggest names in the industry.